Home Buying Process
Home / Home Buying Process
Buying – Simple Steps
Let us help you every step of the way. When purchasing a home, you are faced with a multitude of decisions! The primary one is whether you are actually prepared to purchase a home. Locating the perfect home is not always an easy task, and obtaining a mortgage loan can bfe a complex and tiring process. Although, once you have determined that you are ready to move forward with the required effort towards your home-purchasing goal, the rewards are unquestionable.
While at your side each step of the way, I will make the process of purchasing a home easier, more enjoyable, less time-consuming, and less expensive than if you undertook this challenge on your own. I will help you prepare so that sellers perceive you as a preferred buyer, help you locate and assess properties for sale that match your specifications, and help you through the myriad of details attending the actual purchase.
Alberta Homes Team is always familiar with the current homes on the market, and we know neighbourhood values well, so we can help you determine which properties are fairly-priced and in good condition before you start your search.
To learn more about City Centre Calgary real estate listings and properties for sale, contact Alberta Homes Team and we will help you each step of the way!
Your First Step
Your first step to buying a home is to first ask yourself why you want to buy a home: to stop paying rent? To start building equity? To have a place of your own? To raise a family? To entertain business associates? To move up to a bigger house? Next, list what kind of home you'd like and where you would like to be. Be specific. Separate the "must-haves" from the "want to have." Think of yourself as zeroing in on a target, going from the general to the specific. Consider area (city, suburban neighbourhood, country); community (north, south, east, or west side); neighbourhood (older and settled or sparkling new; a particular school zone; recreational facilities; and other community services such as transportation, daycare, library, stores, entertainment). Ask yourself how many minutes you are willing to commute to work. Think about home styles. How much space do you need? Does your situation require a one-level home, or are stairs acceptable? Consider size and kind of property. Do you want a newer home, or maybe an older one to fix up? Someday you or your heirs will want to sell. Consider how long you expect to live in this particular home.
Your Next Step: Loan Pre-Qualification
Once you have addressed the above needs, your next step in the purchasing process is to get pre-qualified from a mortgage company. This can be done over the phone or even online in a matter of minutes. Call us at 1 (403 ) 561 3456 and we will refer you to a mortgage professional that has an excellent reputation and track record for successfully acquiring loan approval for his/her clients.
We Will Find The Right Home For You
Once you've been pre-qualified and know what price range you want to stay in, I can help you determine which properties fit your needs by using the (MLS) Multiple Listing Service system to locate them. We have the best possible resources and communication systems available today to help you locate the homes on the market that match your specifications. You can even search my listings here on my website.
We Will Help You Every Step Of The Way!
I will help you complete your financing and inspections, and close on the transaction. My top priority is to make sure that your home buying experience is pleasant, cost-efficient, and successful.
Buying Process
Did anyone advise you on 'The Home Buying Process? If you missed it, here is what you need to know.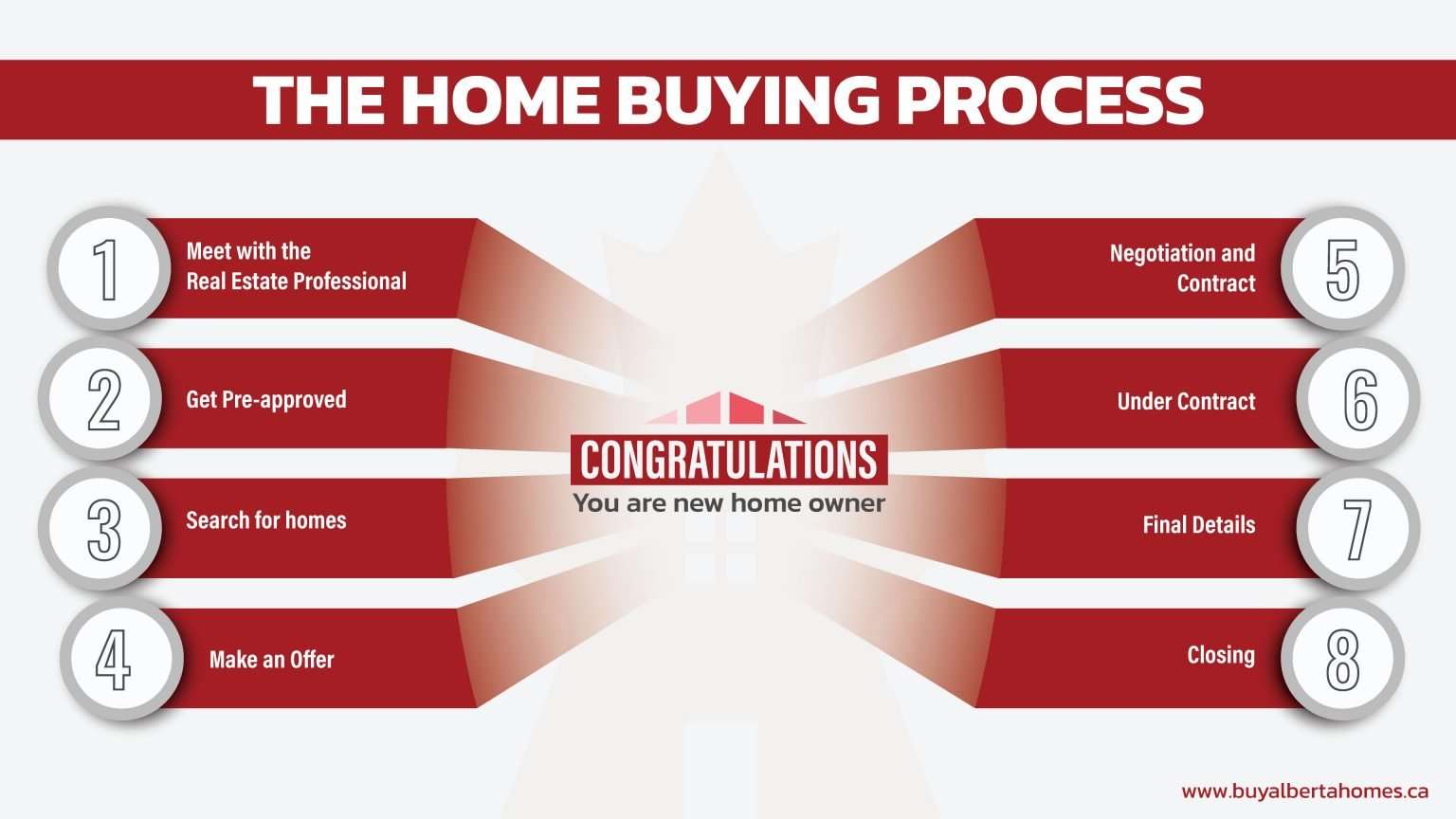 Step 1: MEET WITH A REAL ESTATE PROFESSIONAL
That would be Alberta Homes Team, your real estate professionals in Alberta. Discuss the types of home you're looking for., including style, price, and location. The buyer's advantage: As the home buyer, my commission is paid by the seller of the home in almost all circumstances
Step 2: GET PR-PRE-APPROVED
You will need T4's. pay stubs, bank statements, know what you can afford is critical to a successful home shopping experience.
Step 3: SEARCH FOR HOMES
The fun part! Alberta Homes Team, your real estate professionals will schedule showings and help you find the perfect home.
Advanced search: Not all real estate websites are the same. buyalbertahomes.ca has tools and systems to ensure you see every available home that meets your criteria.
Step 4: MAKE AN OFFER
Jerry Moras, your REALTOR® will prepare the offer based on the price and terms you choose.
Step 5: NEGOTIATION AND CONTRACT
It may take a few tries to get it just right, but hang in there, you're on the way. In most cases, the contract provides you with a timeline to obtain financing as well as time to inspect the physical condition of the home. Jerry Moras Team, real estate professionals will inform you of all of your rights and responsibilities related to the contract.
Step 6: UNDER CONTRACT
You and Seller have agreed to the price and terms. The home is effectively held for you until closing.
Step 7: FINAL DETAILS
Perform due diligence, conduct an inspection, and review terms with the lender. You will be finalizing your loan, reviewing documents, and discussing the findings from the inspection. Alberta Homes Team, your real estate professionals will be managing the entire process for you.
Step 8: CLOSING
This is the transfer of funds and ownership. A title company or an attorney typically acts as an independent third party to facilitate the closing.
Do you have questions?
Call or text today, we are here to help!